Samaritan's Purse - "Operation Christmas Child"
It is time to take a box (or two) and fill it with love and inexpensive items that children who have never received a gift at Christmas will really appreciate. Over the past 20 years, the congregation at "Adare" has filled in excess of 1900 boxes - last year we exceeded 80 boxes - thank you Adare!
Items to include in your box could be:
Exercise books, pens, pencils & sharpener, rubber, item of clothing (age group) a ball, doll
something to play with, beanie, cloth bag etc.
Boxes are required back no later than Sunday 30th September. We look forward to your continued, wonderful support in 2018. On behalf of the children receiving your boxes thanking you,
Margie & Max Vincent (8552 3214).
Samaritan's Purse - Operation Christmas Child
Samaritan's Purse - Operation Christmas Child
Prayer, Reflection, Discernment, Growth for the Adare Church Congregation commencing 15th July 2018
CLICK HERE TO RECEIVE YOUR PRAYER JOURNAL.
As we pray together over the next 21 days, may we be prepared to be still, to listen and wait on God? We may be surprised what we hear; we may not hear anything at all. Any one of us may hear a word that is surprising but do not be afraid.
Our obedience and faithfulness in praying need only be small, we may not really understand what we are doing, and yet our obedience and action will be honoured by God in his faithfulness to us
We are all part of Adare and seeking God's will for her as a way forward. We hope that this 21 days will be a time of deep personal reflection and listening to God and that out of your reflection and discernment we will hear God speaking to us.
God's got a plan, we cant really see it but we are looking for guidance and some direction as to where God is leading us and what his plan is. God uses every one and often unexpected voices, if we take time to be still and wait on him, he will lead us.
We are not really seeking answers to questions ... it is more that we are trying to hear what you think God is saying to us, telling you, that we might hear.
We want to build on the meeting we had on the 15th June, where people shared safely and Adare wants to be a safe place for people to discern and say what they have discerned that may add to the direction we take.
God works through all of us—each of us is really special and we want to hear God's word for you and have it passed onto us a leaders before we begin the process of seeking a new minister.
UCA ASSEMBLY STATEMENT ON MARRIAGE - JULY 2018
The decision by the 15th Assembly of UCA is to hold two equal and distinct views on marriage, to honour the diversity of Christian belief among its members.
The careful, faithful discernment provided by members of the Assembly, recognised and honoured the traditional view of marriage. At the same time, the alternate view of other members was equally recognised and honoured.
The Uniting Church will hold two equal and distinct views on marriage. Ministers, congregations and faith communities who hold to the traditional view of marriage will continue to marry as before. Ministers and congregations who wish to celebrate marriage between two people of the same gender are now able to do that. This means LGBTIQ people (Lesbian, Gay, Bisexual, Transgender, Intersex and Questioning) can fully participate in the life of the Uniting Church.
As a whole church, we are are called to graciously recognise and live within these different positions.This is reflective of the vision of Sue Ellis, Moderator, - living together in the unity of the kingdom of heaven through the example of the mustard seed bush parable, which Jesus speaks of in Matthew 13:31-32.
The President of the Assembly, Dr Deidre Palmer distributed a pastoral letter to Uniting Church congregations and faith communities outlining the decision by the 15th Assembly. You can view the letter HERE.
Rev Prof Andrew Dutney reflects on the decision to approve same-sex marriage by the national council of the Uniting Church at the 15th Assembly meeting. in an article you can read HERE.
Where to now?
Weighing it all up!
PRAYER GROUPS
We are moving into a season of discernment and growth for our Adare community.
Our relationship with God is crucial in this time, and so to build that relationship we are moving into a series and season of prayer.
Season of Prayer for Adare: during the weeks from April 8th until Pentecost: May 20th we will be having a season of prayer.
There will be two new prayer groups: Sundays from 3:30pm – 4:30pm and Tuesdays from 7:00am – 8:00 am. Both groups will be based within the church sanctuary.
The prayer format will be based on the Conversational Prayer style. Anyone is welcome, there is no requirement to be able to pray out loud.
Please contact Rev Susan for more details.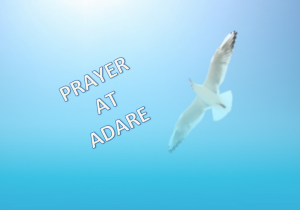 When you feel depressed and want someone to listen, why not talk to God?
KAIROS MINISTRY:
Click here to learn about Kairos Ministries and how Adare Uniting Church can make a difference in the lives of those currently in prison. We can be part of providing hope for those who will exit from prison to again be part of our community.
CHURCH GARAGE SALE RESULTS:
The following was raised:
Cakes, Produce & Plants:              $1,129.95
Toys & Games:                                $1,826.60
Furniture & Electrical:                  $2,275.65
Books:                                                  $692.45
Manchester/Lifestyle:                   $1,518.90
Bric-a-brac:                                        $855.85
Morning Tea/Lunches:                  $798.40
Barbeque:                                          $374.10
Stamps:                                              $233.10
$9,705.00
Less incidentals/dump fees             $37.00
As at 14/1/2018                            $9,668.00
In total $94,575.50 has been raised by the last 12 garage sales.
Pauline Read - Coordinator
National Church Life Survey:
In 2016 the Adare Uniting Church participated in a National Survey relating to Church life.
The Church Life Profile can be viewed anytime online by people .
·        Go to 2016ncls.org.au/profile-number
·        Copy and enter Adare Church Profile Number  -  ZHXQDZ
Look for the bold print View Our Summary Profile - available now and click on it (For the moment you can skip the two steps above and click on the link).
You are encouraged to look closely at the outcomes and talk freely about them.
How should we use these results?
Kiara at the Garage Sale 2018
National Church Life Survey
The Carters

Ryan, Juanita and family, members of Adare Uniting Church, are currently working with Youth with a Mission (YWAM). To see their latest newsletter and to hear of their exploits and prayer needs, click HERE.
The family have prepared a one minute video (August 2017) to share with the Adare Uniting Church Congregation. Click HERE to view it.
The Carter Family in the Ukraine
CHRISTIAN RADIO
Tune in to 87.6FM and enjoy a vibrant mix of contemporary Christian music,
encouragement and positive practical talk on real life issues.
Christian Radio