The congregation elects church LEADERS (formerly called ELDERS) in January each year at the Annual General Meeting of the Congregation. Each member is tenured for up to five years.
LEADERS make up the Adare Church Council and accept responsibility for the spiritual welfare of the church.
LORRAINE CARBINS – 2017
I grew up in a non-Christian family in Adelaide, marrying Barrie at the beginning of my 2nd year of teaching.  I attended Sunday School until age 12. After marrying I became active in the Houghton Methodist Church.  5½ years later I had a life-changing personal encounter with Christ and my faith became personal rather than institutional.
Since then I've studied the Scriptures at Bible College, taught in many different schools, mainly in the area of Special Education, and actively supported Barrie in Parish ministry.  I've also had leadership positions in several schools as well as a managerial position at District level.
I've led various prayer & share groups, been involved in counselling, prayer chains. My current involvement at Adare includes operating the data projector, leading worship, relieving our Church Administration Officer as requested as well as Secretary of the Church Council.
I am committed to serving God's people and trust God to lead and equip me to make a positive contribution to the Adare Congregation as a Church Councillor.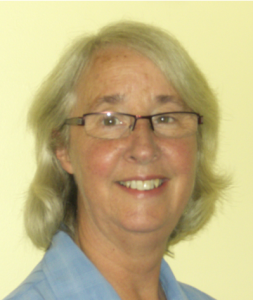 LESLEY STEVENS - 2017 – 2018
As a child I attended Anglican and Methodist Churches, and as a teenager was confirmed into the  Presbyterian Church where John and I taught Sunday School classes. We married in 1970 and have lived in various towns in South Australia (Salisbury, Gawler, Belair, Victor Harbor) as well as Canberra and Melbourne.  In each of these places I have been actively involved in our local Uniting Church congregations, particularly with Sunday Schools as a teacher and superintendent, and as secretary to the Ladies Guild (in Melbourne). 
John and I joined the congregation at Adare when we moved to Victor Harbor in 2007 and feel blessed to have been led to a loving and compassionate church community. I am currently the Congregation Secretary, and Church Treasurer. 
I enjoy fellowship and bible study with the 'WIGLS' home group and have also become involved in counselling for the Christians Against Poverty money management program which I see as a valuable outreach to the wider community.   
I am a qualified bookkeeper, have a Business Administration Diploma and retired recently after almost 50 years in the workforce in business administration roles. I feel privileged to have the opportunity to use my administration skills and experience in leadership roles for the benefit of the Adare congregation.
LESLEY MABLESON - 2017
I grew up and completed my schooling in Port Augusta, where I also did my hairdressing apprenticeship. Attending the Methodist Church, I was involved in Youth Group, 'Rays' and Junior Choir.
Ken and I married in 1971 and lived for the next 22 years in Murray Bridge where our two sons were born. Whilst there I was involved with 'Mothers and Babies', School Council, the local theatre group and many Church activities. I also began working in the payroll section of the Education Dept.
We moved to Coromandel Valley in 1994 and attended Blackwood U C during our 9 years there. In 2003 we came to Victor Harbor and began attending Adare U C.
In recent times I have served as Leader and Council Chairperson and consider it a privilege to be chosen to serve.
I believe Adare is a warm, welcoming congregation, with a big emphasis on caring for others, both within the church and the wider community.
I will, with God's guidance, serve all members at Adare to the best of my ability.
PETER MANUEL 2017 – 2018
Peter came to Victor Harbor in 2001 as Principal of Victor Harbor High School retiring after three years.  He has always been an active community member especially in Rotary where he has held office as president and is currently a director. He is a participant and organizer of a number of sports and has served on a range of community committees.
Within the Adare Uniting Church, Peter is currently Chairperson of the Congregation, Webmaster, coordinator of Pinnaroo services once a month, occasional lay preacher and a member of the group responsible for the development of a church profile.
He supports his wife Brenda in the coordination of the Nockabouts care group and is a member of the Wanderers home group.
Peter has served the Adare church as a leader in the past and seeks again the opportunity to work collaboratively with others to maintain and develop a vibrant church with a passion to use our spiritual gifts to build the body of Christ and serve as God's people within our community.
JOHANNA MCCALLUM – 2017
Johanna was elected as an ELDER for three years in 2012 and undertook responsibilities as the Council Prayer Chain Coordinator, for Pastoral care and Fellowship Support Elder.
She has one year of her tenure to complete.
NEIL PONTIFEX – 2017
I grew up attending a little church at Kainton on Yorke Peninsula. After Rosemary and I married we attended Kulpara UC, where I led the youth group for many years as well as serving as an elder. We moved to Kangaroo Island in 2002 where we attended the Stokes Bay community church.
I have been involved with the Emmaus movement for twenty years, but where I really have had the closest relationship with God has been in the Mobilong prison as a member of Kairos for ten years.
My privilege and my passion has been watching people "have life and have it to the full', often in ways they could never have even imagined, as they trust God more and more.
I hope to be able to contribute to seeing that continue at Adare.
VANESSA WIESE – 2017 – 2018
I was blessed to have been born into a Christian family attending Baptist and then Church of Christ congregations, and I have fond memories of Sunday School, Church camps and youth groups.
Greg and I married in 1993 and being married to a banker meant we got to travel. One such move was to Cairns and it was here, due to a personal tragedy, that my thirst to have a personal relationship with Christ began. We transferred to Alice Springs where I attended a playgroup at the John Flynn Memorial Uniting Church, a bible study one day a week and regular Sunday services. My faith and relationship with Christ grew.
In 2001 we returned to Victor and it was here, at the Church of Christ, that I was baptised. We began attending Adare in 2004 and have been active members of the Adare Church family ever since, and enjoy being part of the AGM group.
I was called to begin working in the Church Office in November 2014 and feel fortunate to be able to serve our Lord and congregation in this way. I now feel that God is calling me to further serve Adare congregation as a member of the Church Council.
RUTH WILLIAMSON – 2017
Being fortunate to grow up in a Christian household my early life revolved around church activities at Prospect Church of Christ.  My teenage years were spent at Dulwich and this church became part of the unique set up of Dulwich /Rose Park /Gartrell United Parish.
Joining the education department allowed me to travel around South Australia. My teaching posts included Millicent, Monash, Kadina and after marrying Jim; St Agnes, Yorketown, Edithburgh, Minlaton and Maitland. The latter of these were during the 11 years our family (three children Briony, Annita and Mark) lived at Yorketown.
We were all involved in the many activities that country life brings and much of it to do with Yorketown Uniting Church and friends met there. Moving back to Adelaide we were actively involved with Tusmore Memorial Uniting. This is one of the churches amalgamated into Burnside City Church.
I have been blessed to join Adare Church where the warmth of friendship and fellowship I have found is wonderful. Being part of a home group is an important part of this as we learn and study together. If elected to church council I would provide a listening ear, continue to ensure Adare is friendly welcoming place, be open to new ideas and work with the team of councillors to seek God's role for us here.
I would hope to play a positive role in Adare's future direction as we grow in love for one another and for Jesus Christ and serve the wider community.